Our most popular wedding koozies..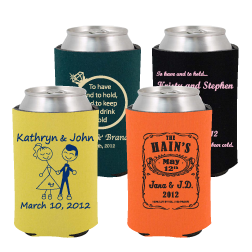 Standard Coolie
Minimum Order to buy

: 25

Imprint Area

: Two Sides & Bottom

Available Colors

: 12 Coolie Colors

Description

: Collapsible Scuba Foam
Starting at $0.41
Order Now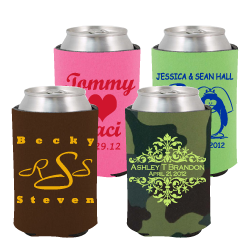 Premium coolie
Minimum Order to buy

: 25

Imprint Area

: Two Sides & Bottom

Available Colors

: 24 Coolie Colors

Description

: Collapsible Scuba Foam
Starting at $0.45
Order Now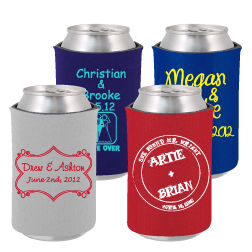 Bottomless Collapsible Coolies
Starting at $0.41
Order Now
Personalized Wedding Koozies
– A Day to Remember
If you're looking for the perfect gift for wedding favors, event giveaways, save-the-dates, reunions or a fun way to display your personalized company logo, PersonalizedDrinkware.com has the perfect solution: buy custom wedding koozies. Everyone has used one, but you may not have known what it was called. A koozie is the best way to keep your beer or soda cold, and your hands warm. These koozies are made for both bottles and cans, beer or soda, and they are an inexpensive and useful gift anyone would appreciate. They can be used during the event, and guests can take these favors home as a keepsake.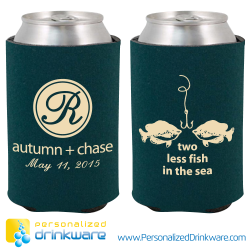 Beverage insulators are designed to keep your beer or soda cold the whole evening. But customizing drink koozies is just as much fun as drinking a nice, cold beer. If you choose a can coolie, there are 200 color combinations. You can include your own artwork and logo for no extra charge. There's even a collapsible option, if you'd prefer one that folds. The minimum order for most items is only 25 pieces, which makes these popular favors for weddings, reunions, baby showers or birthday parties. Any logo you see in our image gallery can be personalized and imprinted on any of our products -- or you can create your own!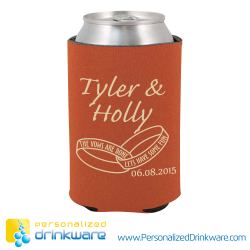 Types of coolies:
Standard - Our most popular cooler for your wedding

Premium - high density scuba foam

Hard Foam - tough and sturdy coolie that started it all

Neoprene - what scuba divers wear - over 50 color choices
Our collapsible coolers are made of 1/8-inch-thick low-density open-cell scuba foam. There are 12 product colors to choose from, as well as 27 different imprint colors. The price of each cooler -- starting at just 41 cents each -- includes the imprint, text or logo of your choice. Free clip art is available right on the site, so you can choose the perfect symbol to represent your event with your own personalized touch.

When you are ready to order, simply click on a category above. After selecting your product you'll choose your desired production time. The standard time is five days, but you can choose a rush order of three days or an urgent order of only one day. Don't worry about planning far ahead; your wedding koozies will be ready for your big day. Next, you'll pick the color for your koozie. You also have the option to have half your order in one color and half in another. Say, pink for the girls and blue for the boys? Next you'll choose your imprint color; this is the color of your text. Last, you'll choose your artwork. Our Image Uploader will also provide you the tool necessary for you to upload your own custom artwork. After you send in your order, a professional designer will review it and send you a proof. Printing begins only after you've approved the proof. Within days, you'll have the perfect favor for your upcoming event! Don't delay and order your custom wedding favors today!
Koozies for Wedding Favors